You have the ability to sort your iPhone contacts by a couple of different methods. Use these steps to sort your iPhone contacts by first name.
Open Settings.
Choose Contacts.
Select Sort Order.
Tap First, Last.
We continue with additional information and pictures for these steps below.
When you create a new contact on your iPhone you can enter a lot of information about that contact.
But you may be struggling to find a contact later when you scroll through your contacts list because of the way that they are sorted.
Fortunately you can adjust the way that your contacts are sorted on the device. Our guide below will show you how to make your iPhone contact sorting by first name rather than last.
How to Make iPhone Contacts by First Name Sorting (Guide with Pictures)
The steps in this article were performed on an iPhone 11 in iOS 13.6.1. You can adjust the contact sorting at any time.
Step 1: Open the Settings app.
Step 2: Scroll down and choose Contacts.
Step 3: Touch the Sort Order button.
Step 4: Tap the First, Last option.
Now when you open the Contacts app your contacts will be sorted by their first name rather than their last.
Note that there is also a Display Order option on the menu in step 3 above. If you adjust that as well it will change how your contact names are shown in the Contacts app.
Additional reading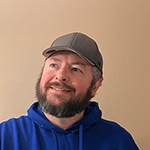 Matt Jacobs has been working as an IT consultant for small businesses since receiving his Master's degree in 2003. While he still does some consulting work, his primary focus now is on creating technology support content for SupportYourTech.com.
His work can be found on many websites and focuses on topics such as Microsoft Office, Apple devices, Android devices, Photoshop, and more.